When developing a P.L.N., it is important to cast a wide net for gathering resources. The more channels, organizations, and people you expose yourself to, the more well-rounded your professional education will be. Today I attempted to expand my P.L.N. to one of international reach. When I sat down to accomplish this, I realized that I did not know where to start. Fortunately, my INFO 233 professor had supplied us with an article that would be perfect in guiding my efforts, "Why Go International? Professional Benefits" by Lesley Farmer. After reading the article, I decided to look into two of the international communities she mentioned: The International Relations Round Table and the International Relations Community.
Image Source: http://www.ala.org/irrt/fron
The International Relations Round Table (IRRT) is a community within the American Library Association (ALA) that is focused on promoting international library issues and organizing international conversations and events. I visited both their Facebook page and their blog in order to learn more about them. Their Facebook page offers many article links, both nationally and internationally-related,  which makes joining this group a smart move in expanding my P.L.N. In watching the YouTube promotion video for the IRRT presentations at this year's A.L.A.'s conference (accessible here), I came across some phrases that I would like to research more, such as: "internationalizing libraries", and "borderless libraries". (A complete list of IRRT-led events at this conference, as well as other sessions that include international themes, visit this page.) According to IRRT, internationalizing libraries relates a lot to promoting multiculturalism. It includes such strategies as brainstorming ways to serve international students, collaborating with foreign libraries or governments, and ensuring access to multicultural materials. In terms of collections development, this involves housing other-language materials, texts by authors of various cultural and ethnic backgrounds, and literature that spans different lands.
The International Relations Community (IRC) is another group developed by ALA. Their discussion thread includes posts about upcoming conferences, titles of articles and books based on international themes, useful advice, and relevant links. One article that interested me was titled "Students without Borders" by Mali Bickley and Jim Carlton. Unfortunately, this community only has thirteen members and the last post was from 2011. This means that besides the current information, I will not be able to utilize this resource further and therefore will not be including it in my P.L.N.
As time passes, I will continue to delve into the resources mentioned in Farmer's article. Hopefully, her suggestions will lead me to sites and communities that mention additional resources as well. Next on my list is to check out the International Association of School Librarianship's (IASL) site. Their site offers public access articles from their peer-reviewed research journal School Libraries Worldwide. This journal contains articles written by authors from around the world.
While I could not find the link on the IASL site for images of school libraries around the world, I was still intrigued by the idea. I could not help but conduct my own Google search. Here are some of the images I found. The first picture, of the double decker bus, is a school library in South London, England that was created due to a lack of building space (Marsh & Spiller, 2015). The second shows an image of the school library at Yoshima Daiichi Elementary School in Iwaki, Japan. The third image is one of the academic libraries at the University of Melbourne.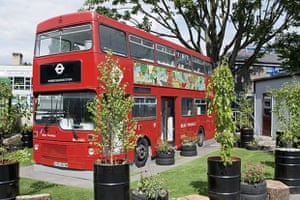 Image Source: The Guardian
Image Source: The Japan Times
Image Source: Space E-Magazine
There is another way I have attempted to embed myself in international library issues. As my last blog post mentions, I recently entered the Twitter world. Upon Twitter's suggestions, I started following the National Library of Wales and The British Library. I tried to add accounts from other countries as well, but realized that many of them were in languages I did not understand. If you have any suggestions for additional feeds to follow, please do not hesitate to share!
Reference: